The Old Church of St. Colman's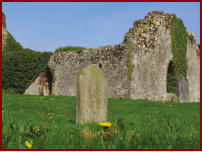 This is the 15th Century church from which Kilkeel derives its name; 'Church of the Narrow Place.' In 1622 it was described as a ruin.
Between 1836 and 1940 it was used as a school, supported in the beginning by Kildare Street Society and then later by Lord Kilmorey.
View The Old Church of St. Colman's Map
Download The Old Church of St. Colman's Map
Additional Graveyard information
Kilkeel Church of Ireland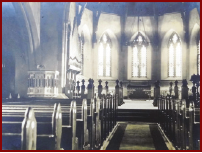 Work on the church began in 1815 and cost £7000. This is equivalent to almost £300,000 in present day. A large sum of money was given by Lord Kilmorey to help cover some of the expenses.
The rector at this time was the Reverend Close. The fine church was slightly too big for its congregation.
View Kilkeel Church of Ireland Map
Download Kilkeel Church of Ireland Map
St. Colman's Roman Catholic Church (Massforth)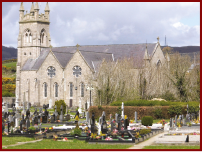 Before this chapel was built the people worshipped outside at the place called Massfourth. Work on the building began in 1811 and was completed in 1818. It was replaced in 1870 at a cost of £5000. The 2005 equivalent of this amount was roughly £230,000.
View St. Colman's Roman Catholic Church Map
Download St. Colman's Roman Catholic Church Map
Mourne Presbyterian Church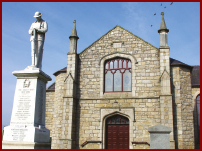 The date stone of the church is 1720, extant from a meeting house in the upper part of the present graveyard. The church built in 1756 replaced the original in Ballymageough. It was t-shaped and thatched. In 1831 it was replaced costing £800 (equivalent of roughly £40,000) and the church looked like the present building. The first known minister was Rev. Charles Wallace.
View Mourne Presbyterian Map
Download Mourne Presbyterian Map
Kilkeel Presbyterian Church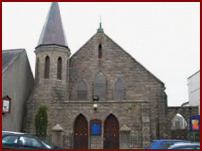 The congregation was being organised in 1822-23. In 1827 the Rev. John Allen was 'called' as its first minister. The church was then in Meeting House Lane. The foundation stone of the new church was laid by the Countess of Kilmorey in 1894 and the building was completed and opened in 1897. The cost was £1006. This was roughly worth £60,000 in 2005.
View Kilkeel Presbyterian Map
Download Kilkeel Presbyterian Map