In the early 1900s farmers began making more use out their land by extracting sand and gravel for their own use and to sell to the public. This was hard, laborious work, with most being done manually. In the late 40s machinery was first used. Loading shovels were becoming more common and the manual loading of lorries became a thing of the past.
In 1941 James Gordon opened his sandpit to supply sand for the construction of runways and hard stands at Bishops Court Aerodrome. Mr Gordon received 4 old pence per ton later increasing to 1 shilling. Around 1500 tons were delivered per week.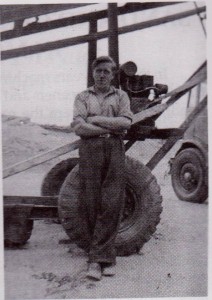 Sandpits were a common sight in the area, from Dunavil to Leestone, the whole way up to Atticall. The main sandpits in the area could be found at Leestone and Cranfield. These men and their companies transported sand and gravel all over Northern Ireland. Many of the sandpits that were operational during the 60s are still in business today.