Troops were stationed at Mourne Park during the war. The location was ideal as it was spacious and quite private, surrounded by woodland and trees.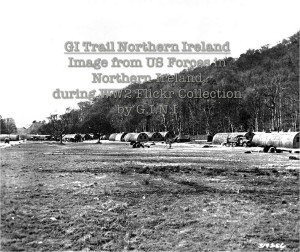 US soldiers of the 40th Field Artillery 5th Division, 13 March 1944.
The buildings in the above picture would have been to the right of a broad concrete path which winds from the main Kilkeel to Rostrevor Road. This path is an obvious sign of American presence in the area as it was constructed by US Military personnel.
Below is a plan of the Mourne Park Camp which was supplied by Mrs Annley who still lives in and owns part of Mourne Park.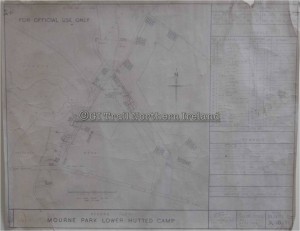 When going through the gates of Mourne Park two buildings are visible which were reportedly a guard room and a cinema for the troops based there.
Troops began to arrive in 1942, the first being the 2nd Battalion 6th Armoured Infantry and the 16th Armoured Engineer Battalion of the 1st Armoured Division.
In October 1943 the Headquarters and Headquarters Battery 5th Infantry Division Artillery and 19th Field Artillery (5th Infantry Division) – equipped with 105mm towed howitzers arrived. Also did the 46th and 50th Field Artillery Battalions (5th Infantry Division) who were also equipped with 105mm towed howitzers.
(The 105 mm howitzer was a standard US light field artillery, a short canon type weapon. It fired 105 mm high explosive semi-fixed ammunition and had a range of 11,270 meters.)
Apparently some of the planning for D-Day took place in Mourne Park House.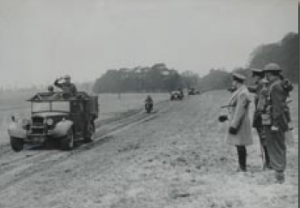 Duke of Gloustecer inspecting troops at Mourne Park
Some of the trees in Mourne Park have carved into them the names and addressess of some of the soldiers. Keep an eye out for these as they are a poignant reminder of the men who trained here.
For more information on the Second World War in Northern Ireland please visit – http://www.ww2ni.webs.com/