Soliders/Squadrons
By December 1943 the main AAF units at Greencastle were:
4th Replacement and Training Squadron (Bomb)
4th Gunnery and Tow Target Flight (SP)
5th Airdrome Squadron
8th Airforce Anti-Aircraft Machine Gunnery School
65th Airdrome Squadron
84th Station Completment Squadron
Det. A 1262nd Military Police Company (AVN)
Det. A. 1730th Ordnance Squadron Company (AVN)
Det. D1056th Q.M. Company Service Group (AVN)
Det. 237 18th Weather Squadron
Photo taken in April 1944 for Life Magazine showing the 1st Platoon Company G of the 1st Infantry returning to base after a 3 day bivouac in the Mournes. This photo was taken on the Newtown Road, Rostrevor.
Aircraft
A P-38 Lightening and B-24 Liberator.
Aircraft stationed and flying into Greencastle at the time of 1943 included the B-17, B-24, B-26, P-47, A-20 and A-28 aircraft. The most common type of aircraft were the B-26 Martin Mauraders…these aircraft were nicknamed the widow-makers.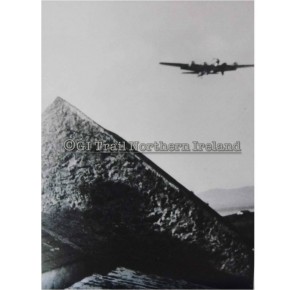 A B-17 Flying Fortress on approach to runway no.1. Photo taken by Jim Patterson.