Greencastle aerodrome was known as U.S.A.A.F. 237. It was acquired by the 8th Air Force Composite Command.
Greencastle was home to 496 Fighter Training Group and 12 Combat Crew Replacement Centre.
Hundreds of acres of farmland and houses were requisitioned and turned into a massive military base.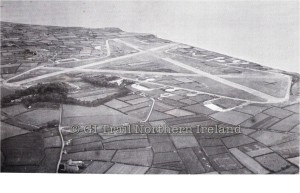 It was opened on 30 July 1942 and by February 1945 there was 320 aircraft on the ground.
The RAF occupied it for 6 months.
It was handed over to the Americans on the 3rd August 1943.
It was 350 acres in size and had four T2 hangers.
The main runway ran NE-SW parallel to the sea and was about 1.5 miles in length and 150 ft. wide. The concrete was no less than 6 inches thick, 9 in some places.
It was used as a training base, teaching new crews skills in gunnery and bombing techniques, making up replacements for crews lost in action.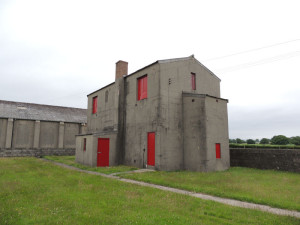 AML Bomber Teaching Unit
Aircraft carried out gunnery practise near Dundrum Bay, and also bombing practise and air to air firing off Annalong and Ballymartin.
May 1944 was Greencastle's busiest period, with the ground-to-air gunnery school turning out 868 graduates.
From Greencastle (along with the other NI bases) the soldiers would leave Ireland and join squadrons in East Anglia and Norfolk.
It was said that there was enough concrete in the Greencastle runways to lay a road 9 feet wide between Belfast and Londonderry.
Eisenhower and Patton flew into Greencastle in the months leading up to D-Day to inspect troops of the US 5th Infantry Division stationed throughout County Down (their HQ was at Donard Lodge in Newcastle).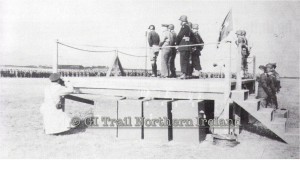 General Patton addressing troops at Greencastle, 30 March 1944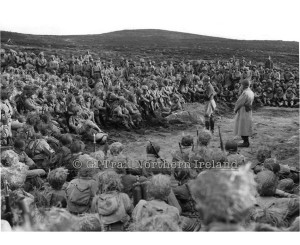 Gen. Patton speaks to men of the 10th Infantry Regiment in the Mournes after completing an assault demonstration near Kilkeel on 30 March 1944.
After D-Day Greencastle began a rundown but joined other CRCC's in becoming storage and replacement depots for hundreds of aircraft. It finally closed in 1945.
In the 1960s the runways were broken up and used  by farmers to rebuild the walls.