1949-1958
Stage 3 was to build a 4k  tunnel through the Slieve Bignian Mountain to divert water from the Annalong River to the Silent Valley. Ben Crom Reservoir was going to be built futher upstream of the Silent Valley.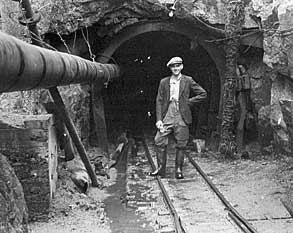 Working on the tunnel.
Slieve Bignian Tunnel
The tunnel took four years to build using power drills and chisels.
It can carry up to 90 million gallons of water per day to the Silent Valley.
It was built by Messrs. A.M Charmichael, Edinburgh.
Two groups worked on the tunnel, each starting at the opposite side of the mountain.
They met in the middle, only 5cm apart.
At the tunnel mouth, near the head of the Valley an electric pump ran to keep the works from being flooded.

Quotes from workers on the Bignian Tunnel
'I remember by father left home in Ballykeel at 4.30am each morning to cycle 4 miles to the Valley gates. They were all on a day shift, so for 6 months a year the only time they saw daylight was on a Sunday.'
Robert Newell
'About half way in we ran into flowing sand. It was unbelieveable…who'd have thought in the middle of a mountain you'd have found running sand?! That was a major set back that was to hold us up by 6 months.'
Harold McCaughan (Engineer)
Ben Crom Reservoir
In 1954, 5km upstream from the Silent Valley, work started on a new reservoir and took 3 years to complete. Unlike the Silent Valley, it had a core of mass concrete and huge boulders and was founded on solid rock. It is known as a gravity dam; it depends on its weight for stability.