In 1941 rumours started to circulate about a new airfield to be built in order to support the war effort. The earth moving machinery arrived before Christmas 1941. Requisition notices began arriving telling people their property was being taken over by the Air Ministry. They were only given a week or two to leave.
Requisitions all came at different times which made it worse. The postman was not a welcome sight in the area. If a neighbour got a notice, you knew you would be next. People who had lived in the area for generations had to leave. Around 40 families were displaced. Some moved away and got jobs elsewhere and never returned. Neighbours disappeared forever.
Houses were pulled down and fences demolished every day. Where there was a house in the morning, there would be an empty space by the evening. They eventually extended out to Greencastle to store more aircraft. They just built parking spaces therefore no more houses needed to be knocked down.
Four roads were closed during the duration of the Aerodrome. You needed a permit to get past Davidson's Corner and there was a guard placed there. People who lived in Greencastle had to be diverted and there was a new road built for them to get to their houses.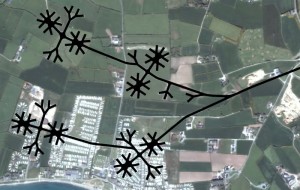 Here is a drawing of where the dispersals at Greencastle were.
There were some buildings built in Close's Planton (later Mournewood) under the camouflage of the trees which surrounded it. There were also offices here. There was also another building on Kitty's Road.
This information came from Sean McManus who lived on the perimiter of the Aerodrome. His family were told to move out of there house but never did, so as a child Sean witnessed first hand the day to day goings-on of the Americans. For more detailled information on the construction see Raymond's County Down Website for an article by John Newell: http://countydown.x10.mx/html/kilkeel17.htm
For more information on the Second World War in Northern Ireland plese visit – http://www.ww2ni.webs.com/