4th April 1937
The loss of the SS Alder was another shipping tragedy which took place in Carlingford Lough.  Kilkeel man Robert Campbell and his wife Kate were lost as a result, along with four other crew members.
Captain Robert Campbell and his wife Kate Campbell.
On board the Alder were; Captain Robert Campbell, his wife Kate and the crew: Chief Engineer; Robert McGrath, Second Engineer; J. Davis, Mate; Michael O'Neill and Deck Hands; Jack Gormas, John Conlin, James Hollywood and W. Cahoun.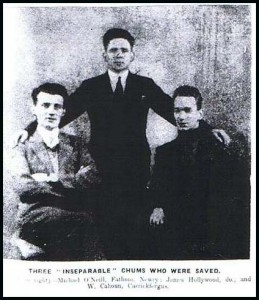 O'Neill, Hollywood and Cahoun.
The Collision
At 4am on 4 April 1937 the SS Alder steamed her way into the Lough through dense fog. Captain Robert Campbell did not want to proceed in the bad conditions so to dropped anchor off Greencastle, to lie up for a few hours before heading on to Newry.
Around 45 minutes after dropping anchor the SS Lady Cavan bound for Liverpool loomed out of the fog and struck the Alder amidships. Captain Campbell, O'Neill, Hollywood and Cahoun were on deck at the time, about to change watch.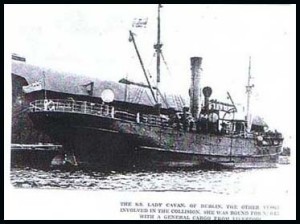 The SS Lady Cavan
Those aboard the Alder thought there was no immediate danger, but the Lady Cavan saw that there was and offered them assistance and a chance to board their ship but the Alder crew declined.
Captain Campbell went below to get his wife and she came on board wearing an overcoat.
When the Lady Cavan reversed her engines the damage became apparent and the Alder began to list. Water began to rush in through the gaping hole in the Alder and she sank to the depths of the Lough, taking all aboard with her.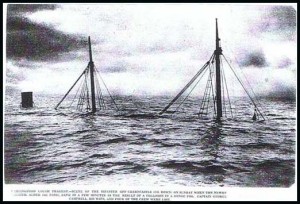 The remains of the SS Alder.
O'Neill and Hollywood however were strong swimmers and managed to surface and made it to an upturned lifeboat. Cahoun who was a non-swimmer luckily came to the surface beside an oar and was able to hold on until the Lady Cavan rescued him.
Aftermath
The lifeboat of the Lady Cavan searched until daylight but there was no sign of Captain Campbell and his wife or the other four crew members. Robert and Kate left behind four children. The search continued for the bodies on the Sunday and Monday to no avail.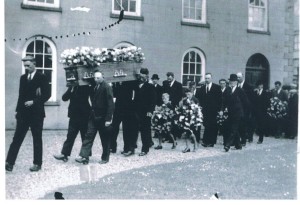 Funeral of Captain Robert Campbell
On the morning of Tuesday 7 April the body of a woman was washed ashore at Rathcor on Dundalk Bay. It was identified as Mrs Kathleen Campbell. She was clad in her night attire and fur coat. Searches continued for the other bodies. Captain Campbell's body was not recovered until July 1937.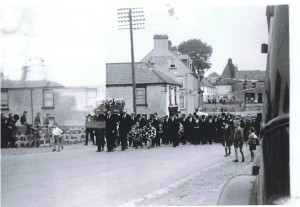 Funeral procession of Captain Campbell coming through Kilkeel Town.