1923-1933
Stage 2: Construction
The tender was awarded to Messers S. Pearson and Sons in 1923 to construct the Silent Valley; an impounding reservoir with a capacity of 3000 million gallons. Lord Carson cut the first sod on 10 October and within weeks Watertown began to form.
Cutting of the first sod by Lord Carson
There was a purpose built railway running between the Valley and Annalong Town. It was used for machinery, materials and men. Over 2000 men worked on the Valley between 1923 and 1933. It was a godsend for Mourne folk looking for employment. Many crossed the mountains twice a day to get to work.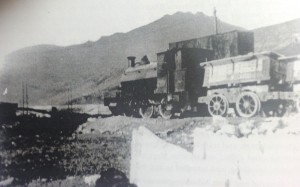 The Dam Cut Off Trench
This 212 ft. trench was required below the dam to make sure the water did not seep out under the dam. This was a challenge as the subsoil was wet silt and the solid bedrock was not located until a depth of 60m was reached. A pioneering method was used to dig the trench by using compressed air.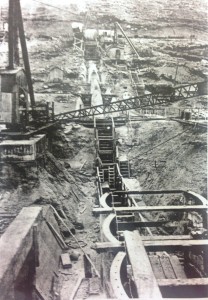 The dam cut off trench during construction.
Shafts lined with cast iron were sunk into the ground at 11m apart by working in the compressed air. The water was then pumped out through the shafts from the waterlogged silt. The shafts were connected by a trench and then filled with concrete. This extremely tough work was reserved for the fittest men. An air lock chamber, 'The Gazoon' was used to decompress the workers to prevent them from getting the bends.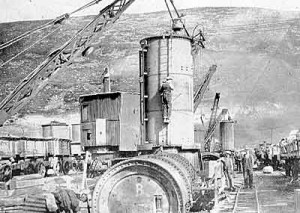 The decompression chamber used to de-compress the workers.
The Embankment
Above the dam trench a watertight barrier of puddle clay was built up layer by layer to prevent water seeping through the dam. The embankment slopes were then completed with 'graded rock fill', soil, grass and then with covered with granite blocks.
As one of the greatest civil engineering achievements ever, the Silent Valley Reservoir was opened on 24th May 1933 by the Duke of Abercorn. The final cost of the scheme was £1.35 million.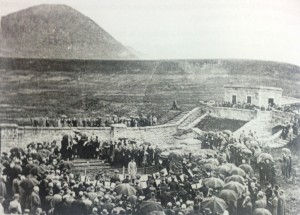 Opening of the Silent Valley, 1933.
The third stage of construction would begin in 1949 to build the Slieve Bignian Tunnel and the Ben Crom Reservoir.
Tragedies During Construction
Some Silent Valley workers unfortunately lost their lives due to tragic accidents:
Jimmy Baines: found at a stone crushing plant after falling from a concrete staging.
Sam Cooke: a rope holding a skip full of concrete broke and fell on him.
John Cousins: caught between two wagons.
William Forsythe: timber staging for tipping concrete collapsed on him.
John Murphy: 18 years old when he lost his footing coming out of a trench.
George Phillips: a rope runner who got a leg infection when injured jumping onto a moving train.
Hugh Quinn: a pump man who drowned in a flooded shaft.
Michael Synott: a steam crane overturned but he managed to save his workmate by pushing him out of the way.
Jim Moore: killed during construction of Ben Crom, crushed by stones.
John Murphy and John Cousins