During the later 1800s the fishing industry grew significantly. By the 1900s one third of all Irish caught herring was landed in Kilkeel Harbour. One man who had a great passion for the sea and wished to help and encourage local men in their trade was Lord Newry (later the 4th Earl of Kilmorey). His first love was the sea and he spent a lot of time on fishing boats, trying to find new and improved fishing techniques.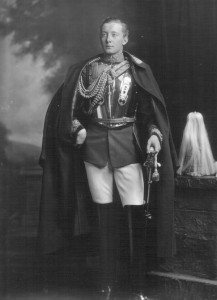 The 4th Earl of Kilmorey. This photo was taken when he was Viscount Newry and Mourne
Lord Newry was responsible for bringing one of the first motorised boats to Kilkeel Harbour and as a result helped revolutionise skiff fishing. He wished for the men to be able to fish in rough stormy weather.
The first motorised skiff Lord Newry brought to Kilkeel was the Ellen Constance N.303. It was a converted motor boat fitted out at Lowestoft and the Viscount himself sailed it back to Kilkeel in May 1911.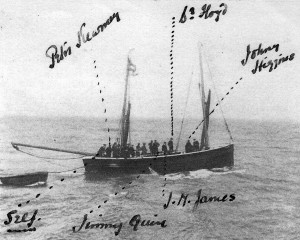 The Ellen Constance. Photo taken from the Earl of Kilmorey's scrapbook.
Ellen Constance was fitted with a Thornycroft two cylinder motor, developing 26 H.P on petrol and 23 H.P on paraffin. The voyage to Ireland was made by the east coast and Caledonian Canal.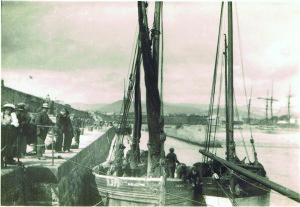 The Ellen Constance in 1911.
Another boat belonging to the Lord Newry was the Patricia, N.206 which apparently embodied the 'evolution of the fishing skiff.' This skiff was built by Kilkeel boat builder John Mackintosh.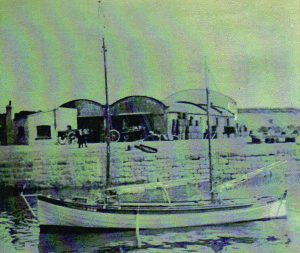 The Patricia
The Patricia had the means to brave the Channel in rough wintry weather due to its new design and a small motor engine. The entire boat was made in Kilkeel, even down to the row locks. It was launched from the shipyard of John Mackintosh, witnessed by a large crowd of local people along with the Earl and Countess of Kilmorey.
When at sea Lord Newry worked among the fishermen, living as the men did as he didn't mind 'roughing it'.
Viscount Newry later built the new lugger the Maid of Mourne N.347 which was able to maintain a speed of 7 knots due to the latest state of the art engine. It was built in the Isle of Man and sailed to Kilkeel with Newry at the helm. These boats belonging to Lord Newry fished from Kilkeel Harbour, giving local men a berth and a means of income. It is said he spent most of his time at the harbour with the 'fisher folk, advising and helping them'.