The following information is from the private collection of Alfie Irvine:
Sergeant William Thomas McKnight
Sergeant McKnight of Newry Street Kilkeel was killed at Passchendaele on 16 August 1917, aged 36 and has no known grave. He is remembered on the Tyne Cot Memorial in Belgium and in Mourne Presbyterian Church. He was a member of the 13th Battalion Royal Irish Rifles. The 13th Battalion was badly depleted on the first day of the Somme where many young men were killed including some from Mourne. As a mature soldier Sergeant McKnight felt the loss of his friends and neighbours greatly, and despaired when their replacements suffered the same fate. McKnight was killed just over a year after the Somme.
Lance Corporal Thomas Ballance
Lance Corporal Ballance fought in the same battalion (13th, Royal Irish Rifles) as Sergeant McKnight and was killed during the Battle of the Somme on 1 July 1916. He was aged 20. His parents were William and Susanna of 13 Stanley Terrace, Harbour Road Kilkeel. He is remembered on the Thiepval Memorial.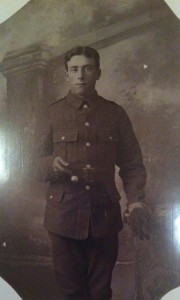 Rifleman William Teggarty
Rifleman Teggarty was killed at the battle of the Somme 1 July 1916, serving with the Royal Irish Rifles. He was the husband of Mary Teggarty of Harbour Road, Kilkeel.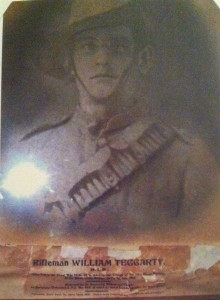 Second Lieutenant Hayden Floyd
Hayden was the only son of the well known Doctor Ferguson Floyd. Hayden was known as a daredevil and he and his father had a great interest in all things mechanical. They were both motorcyclists and Dr. Floyd was one of the first men in the town to own a car. Their home place was on the Sand Road in Derryogue.
Hayden, initially in a motorbike regiment was transferred, probably due to his nature and mechanical mind to the Royal Flying Corps which was much more dangerous than the front line. He held the rank of 2nd Lieutenant when he was attached to a front line squadron in France. This is where he met his death at the age of 20. He was wounded in action over German lines on 9 July 1916 and died two days later, buried by the enemy. The War Graves Commission states that his death was a result of a crash landing and his body was buried at Doucy-Les Ayette, South of Arras. John Graham of Kilkeel lies in an adjacent war cemetery to where Hayden is interred.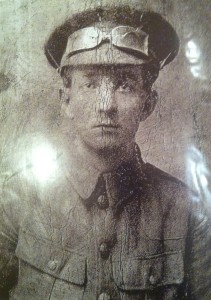 Private John Graham
Remembered  in Kilkeel Presbyterian Church. Killed in action April 1916.
Private Uriah Graham
Uriah Graham served with and survived the war with the Connaught Rangers. Private Graham did not talk much about the war on his return home, but spent his time reminiscing with his old comrades . His son James Graham recalls him talking about his exploits with his boyhood chum Hayden Floyd, rather than the war itself.