Mourne Park House was the family residence of the Needham Family. It was originally built in the early 19th Century as a two story building by Robert Needham, 11th Viscount Kilmorey. A third story was added sometime after 1820 and more extensions followed in 1859. It was listed as a 'Gentleman's Seat' in 1812 and a description of its grounds were as below in 1864;
'Mourne Park, the beautiful estate of the Earl of Kilmorey, the woods and grounds of which clothe the base of Knockchree (Hill of the Deer), 1013 ft. crowned on the summit with an observatory. Here the White Water is crossed…' [1]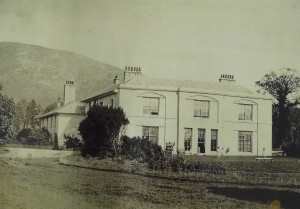 Mourne Park House.

The earldom of Kilmorey was created in 1822 for General Francis Needham (1748-1832). His son Jack Francis Needham inherited the title and became the 2nd Earl of Kilmorey after his father's death. He was renowned for being a very eccentric and colourful person and this lead his father to leave the Mourne Park estate to his three trustees. As a result Kilmorey became an absentee landlord, with little interest in spending time in Ireland. The trustees of the estate were all married to three sisters of the 2nd Earl. [2]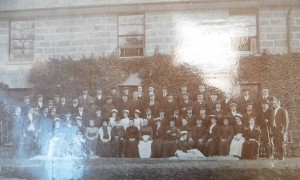 The staff and servants of Mourne Park House.
In 1860, a son of one of the trustee's Octavius Newry Knox carried out a detailed report on the estates belonging to Lord Kilmorey. In this report we can get a better picture of what life was like in Mourne at the time. Knox details the conditions of the land, lists the schools present in the area, discusses the use of sea wrack, along with including descriptions of prominent buildings in Mourne at the time. He also details the state of Mourne Park house and its grounds. The Lord Killmorey at the time was an absentee landlord and this is evident as the report suggests that the house is falling into disrepair. The Mourne Park mansion and premises were held by Captain Ramsay. Knox states the internal woodwork of the mansion is in need of painting and there are some signs of dry rot in the house, causing one part of the floor in a bed chamber to have fallen in. The water pipes supplying the house were also unreliable. [3]
The 3rd Earl of Kilmorey inherited the title in 1880 following Jack Francis' death and spent a lot of time in Mourne Park. He married Ellen Constance Baldock in 1881. 'Nellie' Kilmorey was reported to have inherited 'the Teck Emeralds' from her lover Francis of Teck, the brother of Queen Mary.. The 4th Earl of Kilmorey who died in 1961 was the last Earl to live in the house and it has been passed down through the female line to the current owner Marion Needham Russell. Marion is a cousin of Richard Needham M.P., the 6th Earl of Kilmorey. [4]
Nellie Kilmorey and the family enjoying Mourne Park and the sunshine.
Over recent years Marion and her family had restored the house to some of its former glory and they used it as their home. Unfortunately a serious fire destroyed this beautiful house in May 2013, gutting it internally and destroying centuries of history.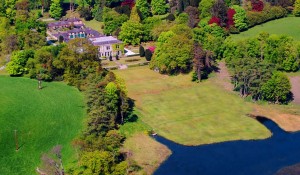 This is a far cry from days gone by, when the mansion was used for extravagant parties, hare coursings, summer fetes and lavish entertainment for the visiting Earl and his guests. The house is steeped in history and can boast of royal guests such as King Edward VII and movie star Errol Flynn. [5]
Inside Mourne Park House
Photos belong to PRONI.
---