Kilkeel author Matt Maginnis has published a book exploring the experiences of Mourne merchant seamen during the First World War. It documents their close encounters with the German U-Boats and tells us all about the experiences of the captains and their crews from Kilkeel and Annalong along with Killowen, Dundrum and Newry. Matt Maginnis hopes that this book is a fitting tribute to the courage and tenacity of these men during the dawn of a new type of warfare.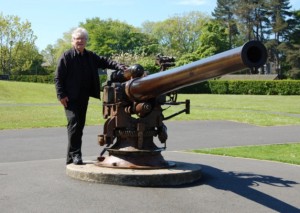 Author of Mourne Men and the U-Boats, Matt Maginnis
The U-Boat Incident of 1918
On 30 May 1918 a fleet of local fishing boats were scuttled by German U-Boat UB-64 under the command of Admiral Otto von Schrader.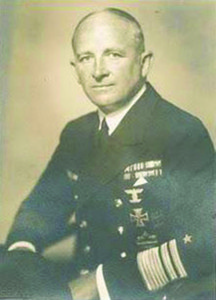 Admiral Otto Von Schrader, commander of the UB-64
The German submarine surfaced in the middle of the fleet who were fishing about 12 miles South by East of Kilkeel. The crews were ordered into the punts and told to row for shore. The crew of the Never Can Tell had no punt so were ordered aboard the submarine, according to crewman Tom Donnan. They stayed here for roughly 1 hour 20 minutes, where they watched the crew place bombs onboard their ships and sink them. During this time the Germans kindly exchanged their gin and cigarettes with the men.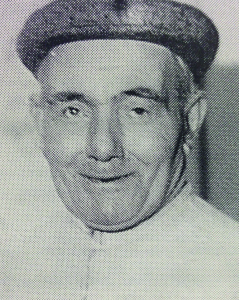 Tom Donnan
The crew of the Never Can Tell were then ordered onboard the Moss Rose. Apparently the parting words from Otto von Schrader were; 'Good night and tell them ashore how bad we were to you, and tell them in Belfast we were asking for them.'
The Mourne boats sunk by the UB64 were; Never Can Tell, The Honey Bee, Jane Gordon, Marianne McCrum, Cyprus, St. Mary, Sparkling Wave and Lloyd. Two Portavogie boats were also sunk: Glad Tidings and Seabird.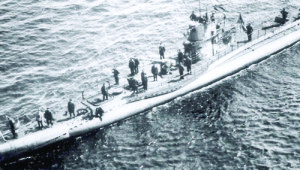 The UB-64 at sea
During its patrols the UB64 sunk 30 ships (34,111 tons) and damaged 4 (48,497 tons). It was surrendered 21 November 1918. UB-64 Commander von Schrader, a recipient of the Iron Cross committed suicide while in Norwegian captivity during WWII on 19 July 1945.
Other Mourne boats sunk by German U-Boats included:
Earnest: the schooner owned by James McKee and James Ferguson of Kilkeel was sunk by U-Boat U-65, 2 May 1917 while taking coal to Dublin. U-65 was commanded by Otto Steinbrinck, a maritime legend. When the crew were ordered onto the deck of the submarine, the commander apologised to Captain Ferguson for sinking his vessel and give him his binoculars as recompense!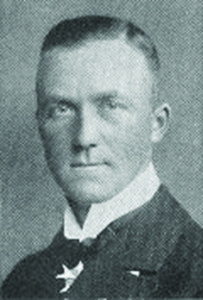 Otto Steinbrinck
Edith: schooner owned by Thomas Doyle and John Rooney. Sunk by U-24, 27 June 1915 off County Cork with a cargo of plaster of paris. Crew saved.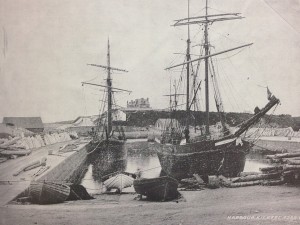 The schooner Edith in the foreground in Kilkeel Harbour